GOLFING IN TURKEY
3 Days And 1 week Packages Istanbul & Antalya Between March - November

Klassis Golf & Country Club – Istanbul:
Klassis, which opened the first Country and Golf Club of Turkey, has an 18 hole Championship Course as well as a 9 hole Compact Golf Course designed by Tony Jacklin.
18 HOLE CHAMPIONSHIP COURSE
• Par 72, 5850 meters
4 each Par 3
4 each Par 5
10 each Par 4
• Average green area: 450 mt.sq.
• Average tee area:
15 mt.x 7 mt.= 105 mt. Sq.
Each fairway has 4 tees
(Except number 2 & 9 )
9 HOLE ACADEMY COURSE
• Par 27, 851 meters
• 9 each Par
PRACTICE RANGE
• Driving range: 225 mt.x 150 mt.
• Prof. Tee: 40 mt.x 5 mt. (grass)
• Beginner tee: 70 mt. 5 mt. (carpet)
• Putting green: 800 mt.sq.
• Pitch Bunker: 3 each
National Golf Club Antalya
Talented designers created sculpted fairways, bunker and greens but no designer can reproduce nature's combination of brilliant sunshine, spectacular trees, azure lakes and snowy peaks as they exist here in Turkey.

Great care has been taken to preserve the forestation and the best use has been made of the trees around many of the greens and fairways.
David Feherty & David Jones, the International Tour Players were briefed to design a course that would be truly memorable for everybody who played it. David Feherty has incorporated aspects of the best courses he has competed on in the world, and has ensured that no two holes are similar.

Hole
Meters
Par
Hole
Meters
Par
Hole
Meters
Par
1
143
3
1
473
5
10
344
4
2
154
3
2
144
3
11
153
3
3
129
3
3
351
4
12
466
5
4
237
4
4
517
5
13
333
4
5
226
3
5
151
3
14
404
4
6
132
3
6
335
4
15
484
5
7
158
3
7
332
4
16
171
3
8
170
3
8
259
4
17
367
4
9
198
28
9
384
4
18
341
4
Total
1547
28
Out
3046
36
In
3063
36
Total
6109
72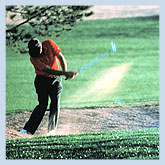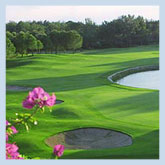 Facilities and Services available include
• Rental Equipment: Golf Clubs,
• Trolley, and Buggy Car
• Outdoor Restaurant serving
• authentic Turkish Cuisine and an
• American Style
• Bar located adjacent to the
• proshop
• The Proshop offers a wide golf
• apparel
• Showering / changing facilities